Posted by Plant Professionals
On April 25, 2023
0 Comments
Creating a butterfly garden is a simple way to add some nature to your surroundings and bring joy to your day each time a butterfly flutters by. Not only will you attract butterflies, but also a variety of other amazing wildlife. South Florida, including Miami and the neighboring cities and suburbs of Dade and Broward counties, is an ideal location to create a fully functional butterfly garden that thrives year-round. Caterpillars, which transform into butterflies, require specific types of host plants to feed on, and these plants grow exceptionally well in the sub-tropical planting zones of South Florida.
At Plant Professionals, we specialize in creating personalized outdoor living areas that cater to your individual preferences. Our team of experts can assist you in planning and designing a garden with a range of butterfly-attracting plants that are native to South Florida. We'll take care of everything from installation to maintenance, ensuring that your outdoor space becomes a stunning butterfly paradise.
What are Butterfly-attracting Plants?
Butterfly-attracting plants are species of plants that have been shown to attract butterflies to your garden. These plants can be native or non-native to your area and usually have nectar-rich flowers that provide a source of food for adult butterflies. Additionally, certain plants also serve as hostplants for butterfly larvae or caterpillars, providing a food source for their growth and development.
Benefits of Butterfly-attracting Plants in Your South Florida Yard
Adding butterfly-attracting plants to your outdoor space can bring a wealth of benefits beyond just their beauty. Here are a few reasons why you should consider planting them in your garden:
Environmental benefits: Butterfly-attracting plants provide a natural habitat for these beautiful creatures, helping to promote biodiversity in your area.

Educational opportunities: Butterfly gardens can be a great learning tool for kids and adults alike, teaching them about pollinators' importance and their role in our ecosystem.

Low maintenance: Many butterfly-attracting plants require

minimal maintenance

, making them a great choice for those who want a beautiful garden without a lot of upkeep.

Health benefits: Spending time outdoors surrounded by nature has been shown to have numerous mental and physical health benefits, including stress reduction and improved mood.

Aesthetic appeal: Butterfly-attracting plants come in a variety of colors and sizes, making them a beautiful addition to any outdoor space.
The Best Plants for Butterflies in South Florida
South Florida is home to a diverse range of butterfly species, and planting butterfly-attracting plants can help bring these beautiful creatures to your outdoor space. Here are some of the best butterfly-attracting plants for South Florida:
Milkweed (Asclepias spp.)
Milkweed is a crucial plant for any butterfly garden, particularly for the monarch butterfly. The plant's leaves are the sole food source for the monarch butterfly larvae, making it a vital host plant for this species. Milkweed has large, showy clusters of flowers that come in a variety of colors, including pink, orange, and white. These flowers are a rich source of nectar for adult butterflies and other pollinators. Additionally, milkweed contains cardiac glycosides, which are toxic to most animals and serve as a defense mechanism against herbivores. While not all species of milkweed are native to Florida, they require low maintenance and are easy to grow, making them an excellent choice for any South Florida garden.
Dwarf Firebush (Hamelia patens var. glabra)
The Dwarf Firebush is highly recommended for attracting butterflies. This Florida-native plant produces bright orange-red flowers that bloom year-round, providing a reliable nectar source for many butterfly species. Additionally, the Dwarf Firebush is a host plant for the larvae of the White Peacock and the Banded Peacock butterflies, making it an essential part of their life cycle. This shrub is easy to care for and grows well in a variety of soil types, making it an excellent addition to any Florida garden looking to attract and support local butterfly populations.
Lantana (Lantana camara)
Lantana is a versatile and attractive flowering plant that is commonly found in South Florida gardens. It comes in a variety of colors, including pink, yellow, orange, and purple, and its small flowers bloom in clusters throughout the year. Lantana is a great choice for butterfly gardens, as its nectar-rich flowers attract a wide range of butterflies and other pollinators. The plant is also low maintenance and drought tolerant, making it a popular choice for landscaping. However, it is important to note that some species of lantana can be invasive in certain areas, so it is important to choose the right variety for your location.
Passionflower (Passiflora spp.)
Passionflower is a unique and fascinating plant that is a favorite of many butterfly enthusiasts in South Florida. The plant's intricate, exotic flowers are typically purple or blue, with a striking, fringed corona in the center. These flowers are a favorite of many butterfly species. Passionflower is a vine that can grow up to 20 feet long, making it a great choice for trellises and fences. The plant prefers full sun to partial shade and well-draining soil and can be propagated from cuttings or seeds.
Pentas (Pentas lanceolata)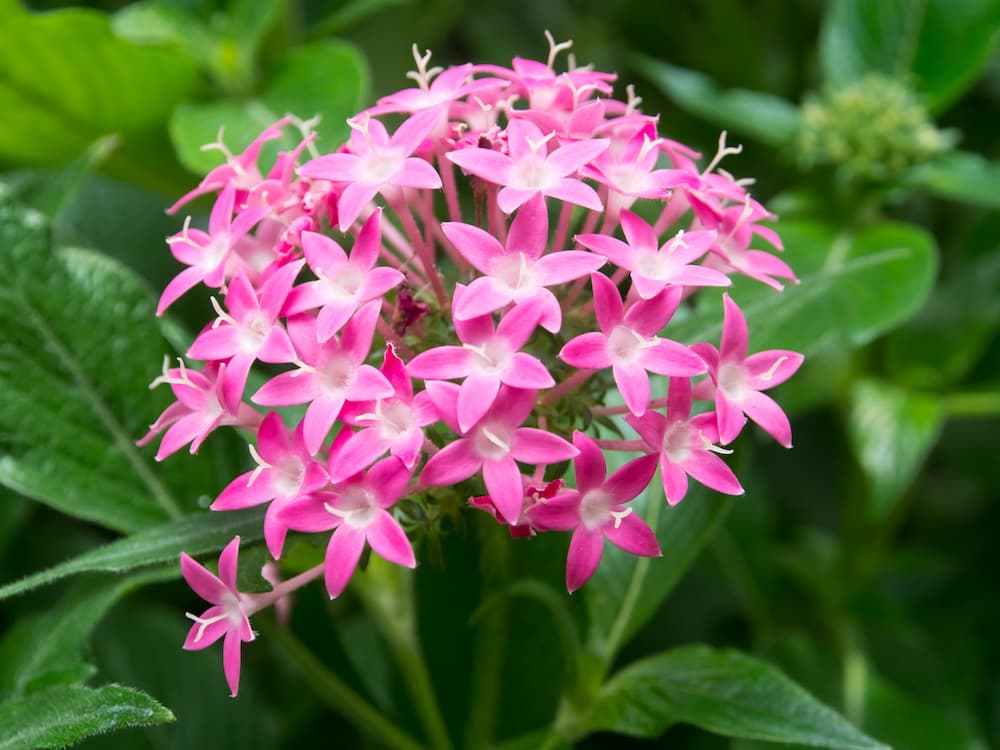 Pentas is a showy, low-maintenance plant that is a must-have for any butterfly garden in South Florida. The plant features clusters of star-shaped flowers in shades of red, pink, white, and lavender, which bloom continuously from spring until fall. These flowers are a magnet for butterflies, including the monarch, queen, and swallowtail. Pentas is a hardy plant that thrives in full sun and well-draining soil and is drought-tolerant once established. It is also resistant to pests and diseases, making it a great choice for gardeners looking for a hassle-free butterfly attractor. Pentas can be propagated from cuttings or seeds and is a great choice for borders, containers, and mass plantings.
Firespike (Odontonema strictum)
Firespike, also known as Cardinal Guard, is a stunning and highly attractive plant for butterflies, hummingbirds, and other pollinators. This plant produces beautiful, showy spikes of bright red tubular flowers that bloom in late summer through the fall, providing a valuable nectar source for butterflies and other wildlife during a time of year when many other plants have stopped blooming. Firespike is a tropical evergreen shrub that can grow up to 6 feet tall, making it a great option for adding height and structure to your garden. It thrives in partial shade to full sun and is well-suited for South Florida's subtropical climate.
How Plant Professionals Can Help You with Butterfly-attracting Plants in Your Yard
Plant Professionals is a one-stop shop for all your landscaping needs, including the incorporation of butterfly-attracting plants in your outdoor space. Our team of professionals can help you design and install a beautiful butterfly garden that attracts a wide range of butterfly species to your property. We specialize in creating customized landscape plans that incorporate the best butterfly-attracting plants for South Florida, including Milkweed, Firebush, Lantana, Passionflower, and Pentas, among many others. We use sustainable landscaping practices and can create a garden that not only attracts butterflies but also supports other wildlife, such as birds and bees. 
Contact the South Florida Plant Professionals Today!
Don't wait to transform your outdoor space into a beautiful butterfly haven. Contact Plant Professionals today to schedule a consultation and start planning your dream butterfly garden. Our team of experts will work with you to design and build the perfect landscaped yard that is friendly and helpful to native butterflies in South Florida.
Image Credit:  Matee Nuserm, Chase D'animulls, Phil Darby, Barbara Ash,  oraziopuccio, shihina,  demamiel62 / Shutterstock