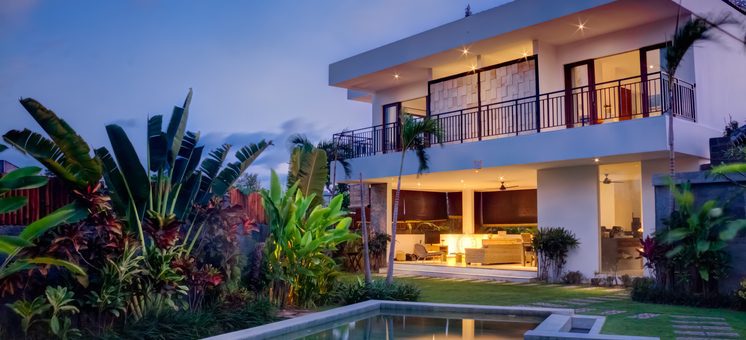 Posted by plantpro
On September 1, 2017
0 Comments
If your landscape is looking a bit dated, you will want to take a look at these modern landscaping ideas for your front yard. Each of these ideas and designs is easy to install and will give your property a bit of modern flair to match the fresh air blowing across the Sunshine State. 
Go Natural with Stone
Natural stone pavers and flagstones are some of this year's most modern front yard landscaping ideas. Pavers come in a wide range of shapes, sizes and colors, which make it easy to blend them into the landscape to create a seamless pathway into your home.
Illuminate the Garden
A few strands of hanging cafe lights or inexpensive paper lanterns will garner your garden a glowing review during your next evening gathering. It also makes it easy to tend to the garden during the cooler evening hours. While you are at it, don't forget to install some path lighting so that you can find your way without traipsing all over the daisies.    
Install a Water Feature
Flowing water creates a comfortable and relaxing ambiance, and there is no better place to set the mood than the front patio. Installing a small fountain, a gently flowing waterfall or a peaceful pond by the door is a modern front yard landscaping idea that is sure to bring peace and relaxation to everyone who enters your dhome.
Repurpose Existing Features
Do you have some old pallets lying around, or can't figure out what to do with that old ladder? Stand them against the fence or a wall and turn them into vertical planting systems. This is a popular way to grow herb gardens and create an aromatic ambiance that will waft throughout the backyard landscape all year long. 
Set the Nights on Fire
Installing an outdoor fireplace or fire pit is one of the hottest modern backyard landscaping ideas in the country. The glowing flames and warm embers create a comfortable and relaxing place to rest and entertain guests when the sun goes down.
Build a Pergola
Pergolas provide shade and a cool place to rest beneath the summer sun. They also provide a structure that climbing vines can cling to and provide a beautiful natural cover for your patio as each season passes and they keep growing.
We invite you to contact Plant Professionals at 786-574-6872 to discover just how easy it is to include these modern front yard landscaping ideas and modern backyard landscaping ideas into your property. We will be happy to answer your questions and tell you how our services are helping homeowners throughout Miami, FL, bring their landscapes into the 21st century.